Silvertone 1490 bass by Teisco
Hi Gavin, I know you appreciate a good bass guitar, so I have attached a couple of photos of this Japanese beauty. It is in the care of my brother at the moment as he has been cleaning it up for a friend. I was up for Xmas and we were admiring, it and wondering what it could be.

However, a short search produced an ID – a Silvertone 1490, made in Japan, and an article in Premier guitar states that: "the last model introduced under the Sears & Roebuck name was the 1490 in 1968. It was the only bass exclusively built and distributed by the Japanese company Teisco".

I've seen many claims about the magic 'Teisco' name of course, but, truth or not there is no denying this one certainly has a great look to it and is in very good condition – unfortunately missing a piece of its stylish split scratchplate/pickguard.

Merry Christmas!

Anthony S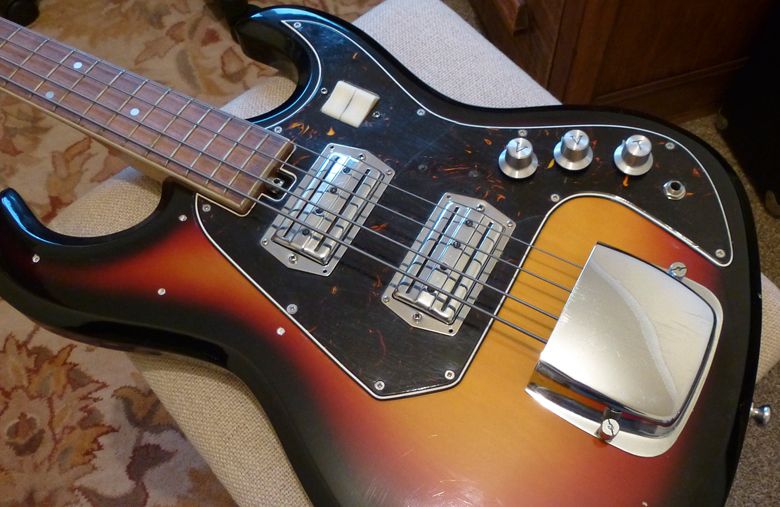 Hi Anthony! It's a nice looker for sure… the design of both the body and the headstock reminds me of Peavey in the 1970s. I wonder if there was any influence there? (I'm thinking that the Teisco may have influenced Peavey, not vice versa). Thanks for sharing.
G L Wilson
© 2013, Guitarz – The Original Guitar Blog – the blog that goes all the way to 11!
Please read our photo and content policy.
Reblogged 4 years ago from guitarz.blogspot.com