By: Rick Landers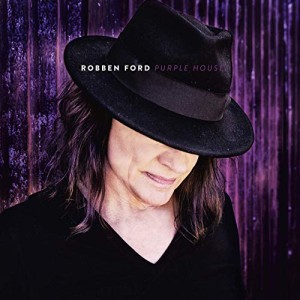 In the world of guitar, five-time Grammy nominee, Robben Ford, stands out as musician who is technically focused and adept, yet plays in an intuitive way, much like a world-class surfer catches a wave and feels his way along its surging improvisational path, to become one with it.
And because of his musical prowess, mention Robben's name and there's that reverential nod, a genuflection acknowledging his prolific talent, as well as a sense of awe when recognizing his musical contributions, that include collaborations with Joni Mitchell, George Harrison, Steely Dan, Dizzy Gillespsie, Georgie Fame, Larry Carlton and Miles Davis.
Check out Robben's instrumental work on the track, "Freedom", and you're taken on an instructive melodic journey of guitar emotion and precision, featuring pinpoint accuracy and colorful details, as well as turgid groans from the belly of some beast.
Then fast forward to his most recent release, Purple House, and and its straightforward approach. And he rolled in some great collaborators, including Shemekia Copeland ("Break In the Chain"); Travis McCready, and Bishop Gunn on "Somebody's Fool".  And listen up to hear some superb guitar licks by Gunn's guitarist, Drew Smithers, on the punchy "Willing to Wait".
"I was inspired to go past what would certainly happen on a traditional blues or R&B album, take more chances sonically, and open it up without losing the essence of soulfulness or live performance". – Robben Ford
From a young age, Ford dug into the blues, rock and jazz, resulting in a gig that had him hanging with the legendary Chicago harp player, Charlie Musselwhite. Robben was 18 and, in many respects, the two were cut from the same traditional cloth. He wound up in L.A., where he found himself on Joni Mitchell's Court and Spark tour, and he recalled "The two years spent with Joni were the most formative of my musical life."
Beatle George Harrison asked Robben to be on his Dark Horse tour (U.S. and Canada) and having been on Joni's and George's tours, his name became known to Elektra Records, the label that produced his first solo recording, Then Inside Story. Grammy nominations would follow, as well as collaborations or tours with the likes of Miles Davis, Phil Lesh, Bob Dylan and collaborations with Warren Haynes, Keb' Mo, Robert Randolph, ZZ Ward, and Sonny Landreth.
Ford has also shown other guitarists the ropes with his own guitar instructional videos with TrueFire and the Robben Ford Guitar Dojo.
******
Rick Landers:  Guitarist David Grissom has said that he's a huge fan of yours, but something in particular caught my attention. He said, "With Robben, every note means something." I know he's probably talking a bit off the cuff. Would you say there are notes that have more meaning than others, and what about the space between the notes? How important are those?
Robben Ford: I'm certainly flattered to hear it. He's a great guitar player. I come from a real strong Blues tradition. A lot of my contemporaries have been Blues players primarily and then moved that into other genres. Everything should mean something and everything should have a thread running through it.
For me, it's kind of a singer's approach with more notes than some people will play: like B.B. King with more notes. Again, I'm happy to hear that from David. Everything that you play should matter.
Everything should have a purpose, and it should tell a story. It's storytelling really. That's what playing is all about for me, and that basically comes out of a blues tradition: not the rock tradition, not the jazz tradition so much. It's in the jazz tradition, of course, but it's that blues thing. [Both chuckle]
Rick: Who were you listening to when you first got into the Blues? Was it B.B. King? There were a lot of different people around back in those days.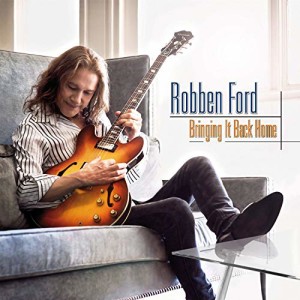 Robben Ford: The first guy to really light me up, and I was young, I was like 13, was Mike Bloomfield and the Providential Blues Band. Very shortly thereafter, Clapton appeared with that first John Mayall record.
Rick: Yes, Beano. 
Robben Ford: Yeah. Then along came Jimi Hendrix. I used to go to the Fillmore Auditorium in San Francisco, in and around those places. I went to see Mike Bloomfield with the Electric Flag at the Winterland, and B.B. King was the second act on the bill.
I had no idea who he was. I was 15 and it just completely rocked my world, and of course I became a huge B.B. King fan.
Those guys right there were the major ones for me: Bloomfield, Clapton, Hendrix, B.B. King. Those were the really big guitar influences on me.
Rick: And then Clapton move to Cream. 
Robben Ford: His playing on the Fresh Cream release is just brilliant, very melodic. I love the way he played on that record.
Rick: I was listening to your latest release, Purple House. I really like "Bound for Glory". "Cotton Candy" was really wild; is that a saxophone on "Cotton Candy"?
Robben Ford: Yes, a tenor.  
Rick:  "Willing to Wait" and "Wild Honey", there were a couple of others, but those were the ones that I went back to a couple of times.  What songs do you enjoy playing most of all of those? 
Robben Ford: At this point, it's difficult to replicate a lot of that music, for a variety of reasons. The only things we're playing off the record are "Tangle With Ya", "What I Haven't Done" and "Bound for Glory". 
Those are the only three songs we've been playing live at this point. We used a lot of acoustic guitar on the new record, which is a flavor I really like. Haven't quite gotten the instrumentation together to be able to perform some of that music.
Rick: What kind of acoustic guitars do you play?
Robben Ford: The only acoustic that you hear on Purple House is a 1959 J-45, a beautiful guitar.
Rick: How did you meet Ryan Madora, and did you get a chance to hear her play drums? I hear she started out with drums.
Robben Ford: I never heard Ryan play drums. My co-producer on Purple House is Casey Wosner; Purple House is actually Casey's studio.
I have a string of dates on the West Coast. I wanted to do something different than what I had been doing. I was friends with Casey. He had worked for me as a guitar tech and stage manager. I knew he was very talented, multi-talented.
I wanted to have a group of two guitarists, so I talked to Casey.
I said, "Hey, man, why don't you play guitar and who do you know who's out there?" He recommended Brian and the drummer on the record, Derrek Phillips. We got together one day and started playing and it was just instantly a pleasure. They are delightful people, wonderful people, and we clicked, you know?
We did two weeks on the West Coast and I said, "Let's just do the record together. Let's just make a record." I liked the way we jelled so much. I like the group concept. I'm not really one to bring in individuals for this song, that song. So, we cut the record together in Casey's studio. And I'm very happy with the results.
Rick: Yeah, it's a good production. Now Casey's another drummer. He also plays drums, right?
Robben Ford: Plays drums, plays guitar, a great engineer, sings his ass off [Both chuckle]
Rick: Casey said after watching you and Larry Carlton play on a video, he said he might just stick to playing the G-chord, and that you guys were so good, you probably should plateau around the G-chord only. I thought that was pretty humble and clever of him to say. 
I know that you're an instructor. Have you found some of your students online breaking barriers like finally getting the fretboard, finally getting improvisation and other challenges that we all face, I think, at some point? And how does that make you feel when somebody you're actually teaching has broken through one of those barriers?
Robben Ford: I don't really teach one-on-one. Everything that's available online is accessed through TrueFire, the company that produces all of my instructional materials.
I don't really have that kind of interaction with individuals unless I sometimes do an all-day seminar in which I'll interact with individuals. I've also done a guitar camp the last five years in a row and there's some interaction in those cases. But, I'm always looking for the light bulb to go off. These are usually group situations, not one-on-one.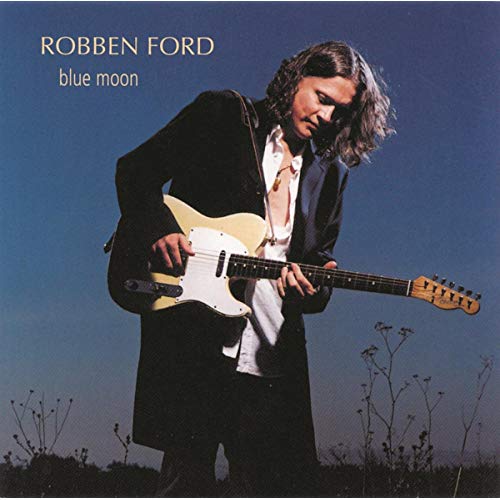 Rick: You played with a guy named Tyler Bryant. He's pretty young, right? Did you teach him anything or was he just so good that he was like a brother with guitars? 
Robben Ford: I had Tyler as a guest and that's it. I've met him a couple of times and he sat in with my group the first time I played in Tennessee. My manager at the time suggested connecting, so I had him play on the record, but there's not been any mentoring situation there. He's certainly a lot younger than I, so "brothers" I wouldn't say, but he's a very talented young man.
Rick: When you were developing your videos, did you have a learning curve? Did you go back and look at older videos and think that you may have done them differently or were you working from a template that TrueFire has used?
Robben Ford: We really do it together with TrueFire, myself and Brett Wendkos, who's the head of the company. He's been doing this for many years. He's very good at directing. He knows what people need and what they watch. He's really good at that.
I often will let him if there's something I'm particularly interested in doing. I'm very spontaneous. I can easily get into a flow about something: pick a topic and I can kind of run with it. So, we kind of improvise, but there are certain goals, certain things that we want to accomplish and present clearly.
His experience on the production side and I have a pretty natural sense of teaching is just a great combination. I'm really proud of the things we do together.
Rick: They're really good videos. Would you mind describing, maybe using a song from your album as an example, how you work with Casey producing a song, How It might change from when you first write it to its final production? How does that involve? Is it very collaborative or does somebody take the lead?
Robben Ford: Musically, the instruments, it's all of the guys in the group. They'll come up with their own parts, but I really direct the whole thing musically. I write all of the music and I have a pretty good idea of what I want to do.
Where Casey was most important was making sure the recording studio is really dialed in. He has great gear and he really knows how to use it. We had an engineer who did a lot of the recording named Ross Collier, a young man who's credited on the album as the engineer. Casey worked very closely with him in terms of getting the sound. I would have certain ideas, but I didn't know how to get to them.
Ross was very good at finding a lot of alternatives sonically. Casey once again does a lot of recording and mixing in his studio, so he really knows the room super well.
And there's my own vision of the song, so it's very collaborative on the recording side, in capturing what we were doing, on how the instruments sounded. and on how we can change the sound of the instruments. That's Casey strong suit there. There's rhythm guitar, too. And Ross Collier, once again, if you needed something, he could get it for you.
Rick: He'd find it somewhere.
Robben Ford: Yes, a lot of alternatives.
RICK: When you were young, I think you started out with saxophone, right?
Robben Ford: Uh-huh.
Rick: Back in the '50s, a lot of the time a saxophone was the lead instrument, not a guitar. Have you found that your experience with the sax influenced your guitar playing?
Robben Ford: I was never really very good at it. I loved the saxophone, but I didn't really excel at it. Honestly, I think it's kind of a love thing. When I picked up the guitar, I just kind of excelled quickly. I have this sort of back and forth with the guitar and the saxophone. I would say I played saxophone more like I played the guitar, than the other way around.
Rick: Oh, really? That's a twist.
Robben Ford: What I was listening to was saxophone players: the way they phrased, the way they breathed. You have to breathe if you play a horn. On a guitar, you don't have to breathe.
Rick: [Laughs] Not 'til the end.
Robben Ford: The harmonics have sophistication that I was drawn toward. I wanted to understand, to have more musical knowledge, so I could play more things that was hearing in blues guitar. And the saxophone was kind of the premier instrument for me that I was drawn to.
Rick: Okay, I'd like to move a little bit into some of the people you've worked with. One is Joni Mitchell. How did you and she meet and what was your first impression of her? After working with her, did her magic, talent and work ethic, I suppose, continue to impress you? 
Robin Ford:  I met her because the group that backed her on the Court and Spark record, she was hoping to have them do the tour after the record was released.
The guitarist was Larry Carlton primarily and the keyboard player was Joe Sample, primarily. Both of them had tour dates with The Crusaders. They couldn't go on the road with her. They went looking for a keyboard player and a guitarist.
They invited a brilliant pianist composer named Roger Kerlerec, who was in the band when I first came along.
I just got a call from Tom (Scott). He had heard me play but the two others hadn't, so I suggested we meet. He asked me if I'd come in and just jam with the group and see how it goes, which I did and it went really well.
Joni actually came in when I was there with them. She was just beautiful, radiant. After we played, I was asked to join the band, and I said yes [Both laugh].
That began probably the most gratifying year of my musical career. The music was brilliant and completely outside my wheelhouse as a player, so I was learning on the job. I was amazed honestly [Chuckles] that they were okay with me, because I was basically a blues guitarist who wanted to be a jazz guitarist, who was suddenly playing in a fusion group.
Tom Scott took me to Guitar Center and bought me a bunch of pedals. I was plugging them in, and I don't really know how to use them, and I'm playing all this music that's very different from anything I've ever done before.
It was the greatest learning experience of my life, that first year with her. I learned more in that year than at any other time of my life before or since.
Rick: Really?
Robben Ford: Yeah. I mean, I was around great musicians, accomplished musicians for the first time in my life, and Joni Mitchell was the center of the mandala with incredible music, absolutely beautiful, stunning voice, wonderful personality.
Everybody was nice, friendly. It was just incredible. It was just the best thing that could have happened to someone like myself, who very possibly would have wound up like many other guitarists who pretty much just play one style, just one thing their whole lives.
This opened up the world of music to me in a way that I was certainly happy about: being introduced to classical music by people who knew it, being introduced to Indian music. It was just awesome.
Rick: Have you listened to Mali Music at all?
Robben Ford: Yes, I have. It's unbelievable.
Rick: Joni was with Asylum Records I think back then, right?
Robben Ford: Yes, Elektra/Asylum.
Rick: There was another female artist there who sang, assigned to Asylum, Judee Sill. Did you know her?
Robben Ford: No.
Rick: She dated JD Souther for a while. You should look her up. She was pretty brilliant herself. Even before Joni was signed, she got signed by Asylum. She passed away in the '70s, sort of like Nick Drake, a British Folk guy from the '70s who I think was brilliant as well. I saw a video and I think you were playing on it. It was Joni Mitchell and the group was playing, I want to say, "Just Like This Train", but it looked like you guys were having a blast playing on stage.
Robben Ford: Yeah, that's probably that show from London.
Rick: Yeah, I think it was London. You guys were really getting into it, just the instrumental part of it. It was pretty cool. Were you able to hang out with Larry (Carlton) to figure out guitar parts for Court and Spark, or did you have to figure them out yourself?
Robben Ford: Well, I merely listened to the records a bit. It was really a style.
Rick: Yeah, it was like fusion.
Robben Ford: Kind of. You know there's a lot of use of the volume pedal. That was kind of a good thing and that music. It was strummy. It wasn't difficult in a physical way, a technical way.
It was more just like getting the style and learning how to fit in, and as I say, I was just learning. I never did get together with Larry. He didn't show me parts or anything like that. We did get together later. He came to the jam when I first jammed with the group and showed me some of the L.A. Express' music, what they were doing.
That was helpful to be able to play with the group. They played a little bit with the band. It was always a group. I was kind of just learning with them. We'd play and I'd listen.  They would often tell me what to play because I hadn't a clue.
Rick: You played on two albums after Court and Spark, right?
Robben Ford: I'm on The Hissing of Summer Lawns. That's it.
Rick: Working with Charlie Musselwhite and Joni and Larry Carlton and Miles Davis, you must have heard plenty of stories. Did Charlie ever talk to you about moonshining days?
Robben Ford: I was very young. I was 19. I was very naive, very shy, very quiet. Charlie, in those days, well I don't think he's ever been that talkative. I didn't hear stories. [Both laugh]
Rick: Apparently he was a moonshiner with a 1950 Lincoln.
How would you describe George Harrison as a guitar player, as well as a friend? I know a lot of people don't think of him that much as being a great guitar player, but I listen to some songs of his. They're melodic and I think they're great. What did you think when you saw him and met him?
Robben Ford: Well, he was a simple guitarist. The music that we played was all very basic major and minor chords.
I kind of picked up on the strength that was back there. For some reason when it was just him and me in his hotel room with a couple of guitars – I don't even remember how that happened – again, I was very young, very naive, very shy. But, he'd try to play something on on the slide, and it was strong.
There was a certain quality that comes from experience. It's sort of undeniably present. He had that, and that, to me, is the ultimate thing anyway.
I honestly don't care how many notes you can play. I don't care how much you know. If you're not able to really say something with it, then I don't care [Both laugh]. George had that.
Rick: It's special, yeah. Have you ever listened closely to The Beatles song, "What Goes On"?
Robben Ford: Sure.
Rick: I don't know what they did there because you hear crackling and bits of notes going through it. Have you listened that closely? It's wild.
Robben Ford: Oh, sure.
Rick: You couldn't hear that on radio back then, but if you listen closely on the record – and I can only imagine it's George Martin who did that rather than George, but I don't know. I'm not sure who was in the studio working that, but that was a pretty amazing song.
Robben Ford: It's very sticky playing [Both laugh]. Getting it is sort of not getting it. That's what's going on.
Rick: When you're hanging out at home, do you have other hobbies or are you married to the guitar?
Robben Ford: I've always been kind of drawn to meditation, a little bit of yoga, a little bit of qigong, health-oriented activities like that. I don't have other hobbies, no.
Rick:  What albums do you tend to return to after time? I tend to go back to people like Tim Buckley and the old British Folk music. What do you go back to and listen to over and over again?
Robben Ford: I listen to people like Wayne Schroeder, Kenny Rollins. I was really happy when this previously unreleased John Coltrane record came out. They called it the "lost album". That was just a wonderful thing to hear. I like Monk. Beyond that, I like Indian music. I went through a very strong phase over the last couple of years I've been listening to Indian music. It has kind of tapered off now.
Rick: Was that like Ravi Shankar or…?
Robben Ford: Well, Ravi is the famous one. There are so many others.
Reblogged 9 months ago from feedproxy.google.com