By: Robert Cavuoto
Randy Bachman,  the legendary guitarist and songwriter, from the Guess Who and Bachman-Turner Overdrive has sold over 40 million records and garnered countless #1 radio hits in over 20 countries.
As fresh as they were when first released, the hits are timeless and include: "American Woman," "These Eyes," "No Time," "You Ain't Seen Nothin' Yet," "Takin' Care of Business," and "Roll On Down the Highway."
To recount the stories behind the hits, Randy and his band filmed one of their Storyteller shows in 2013, while at Pantages Playhouse Theatre in Winnipeg, Canada.
Randy shares his mastery of storytelling and musical knowledge in a humorous and highly entertaining way.
I had the chance to speak with Randy to discuss the origins of his Every Song Tells A Story DVD/CD, where he shared  some insights into the band's historic songs.
 ******
Robert Cavuoto: You have so many great songs in your career to pick the set list from, did you base the songs played on the DVD because they were hits or because they had such great stories behind them?
Randy Bachman: They were based on the hits; nobody wants to hear the story of a flop. I saw Ray Davies of the Kinks in London doing a Storyteller show and went to see him backstage. He told me that I can do a better show then him because I have two bands worth of hits to pull from.
Shortly after that I was asked to do a charity event where they wanted me to play acoustically for a $5000 plate dinner.
I told them my songs don't lend themselves to acoustic and I would be happy to bring my band to play at a low volume and tell stories. This way people can still talk to each other. When I told the stories, nobody spoke; it was dead silence.
I thought I might be on to something. When I was done they said if you put this on a DVD we would buy copies and send copies to our friends around the globe.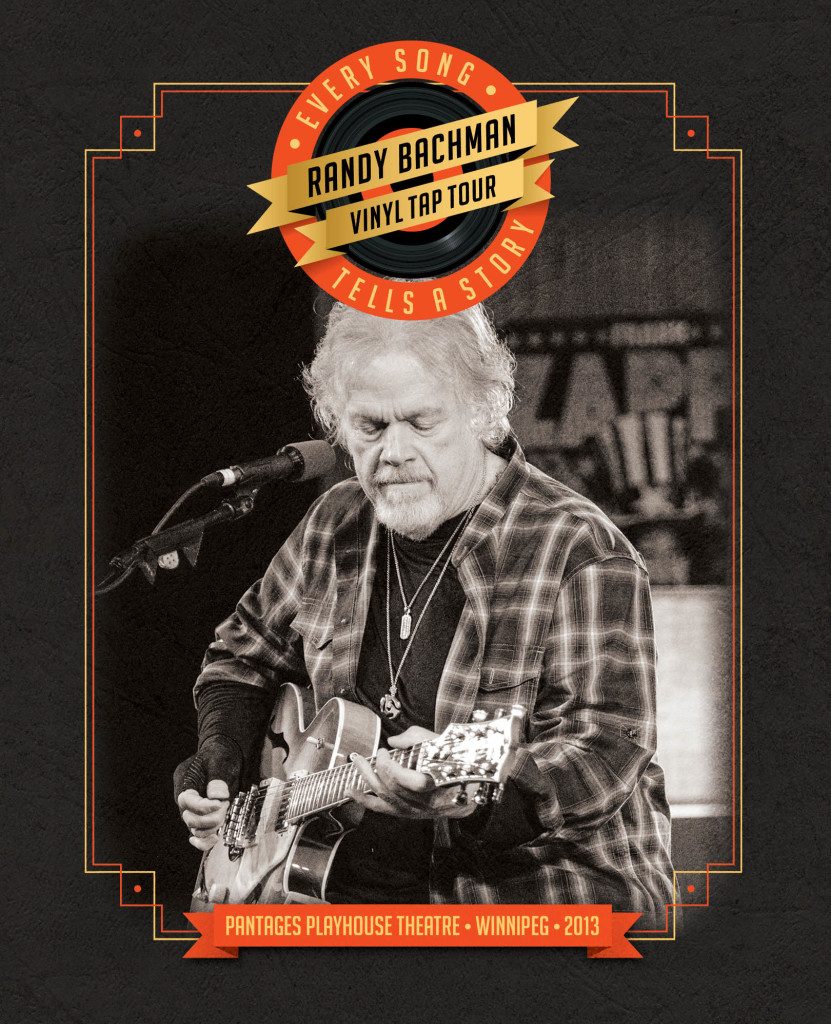 Fast forward when I was starting doing this tour, and we were headed to Winnipeg. I was getting better and better with the stories. I was smoother at putting in funnier clichés. Even my band said that they were hearing new parts for the first time.
I've done the show 100 times by the time I got to Winnipeg, so we decided to record it. The guys had put together a video collage while I play that brings the stories to life.
Robert: "American Woman" was one of the first songs I learned to play on guitar; it was Krokus's version that made me fall in love with it. Who in your opinion has the best cover version?
Randy Bachman: I know of about 20 heavy metal bands that have done it like The Almighty and Krokus; both did pretty good versions.
I like the Lenny Kravitz version because he was quite bold in re-inventing it and creating a new solo. There is a wonderful version of the song with Lenny and Prince from New Year's Eve a couple of years ago with a 12 piece horn section. That is something to see! I'm sure you can find it You Tube. It's stunning like you have never heard it before.
Robert: Some 44 years since "American Woman" was written, it still has merit and meaning, do you think it's a timeless song?
Randy Bachman: A riff like that or "Whole Lotta Love" is timeless. Also America is always at war with someone "I don't need your war machine, I don't need your ghetto scenes" those lyrics resonate around those political lines, as they are always relevant.
When Desert Storm and 9-11 happened it was big song again. Time may change but history repeats itself and so do the songs.
Robert: At what point did you realize the anthemic impact "American Woman" would have?
Randy Bachman: I think when it started to get good airplay, because we never thought it would. The CD and single both went to #1 in all the trades, like Cashbox and Billboard. That was big news.
We went from playing $750 dollars a night to getting $10,000 and $12,000 a night with that one record.
Robert: All of your songs have great memorable riffs, do you think writing great riffs is a dying art?
Randy Bachman: Not with me, I just did a blues album and it's full of great riffs.
I grew up trying to write songs that were recognizable in the first bar, just like the Beatles or Chuck Berry. That's what music is all about in the '60s. If you didn't know the song by the intro people didn't know it at all, why even play the song [Laughing].
Even "Taking Care of Business" is a variation of a Chuck Berry song, but it is very recognizable because I banged my guitar and the A string was down a step. When I went to play the Chuck Berry normal bottom which is 1-5,-1-6, it became a 1-4, 1-5.
Everybody looked at me and said, "What's that?" I re-tuned the guitar and it didn't sound the same. The tuning somehow made an old song sound new and different.
Click here to view the embedded video.
Robert: Was there ever a song you wrote that you thought would be a hit and wasn't?
Randy Bachman: Yes, after BTO, I had a band called Union and we had a song called "Main Street USA", which everyone said was a hit. The independent promotion guy and the record mob, who were controlling the radio station play list at the time won't play it if you didn't come up with some money. So that song vanished
Robert: When you look back on your career from the early days, what the most important thing you have learned?
Randy Bachman: Two things: I'm glad I did it straight, drugs and alcohol mess everybody up, the player, the family, the friends, the kids, and the band. The other is to get the best lawyers.
I had some bad lawyers and still living with some bad deals. I'm not talking about getting the best real estate lawyer who knows the music industry, get the best corporate lawyer who knows the business of record deals.
Reblogged 3 years ago from feedproxy.google.com