Press Release
Source: PRS Guitars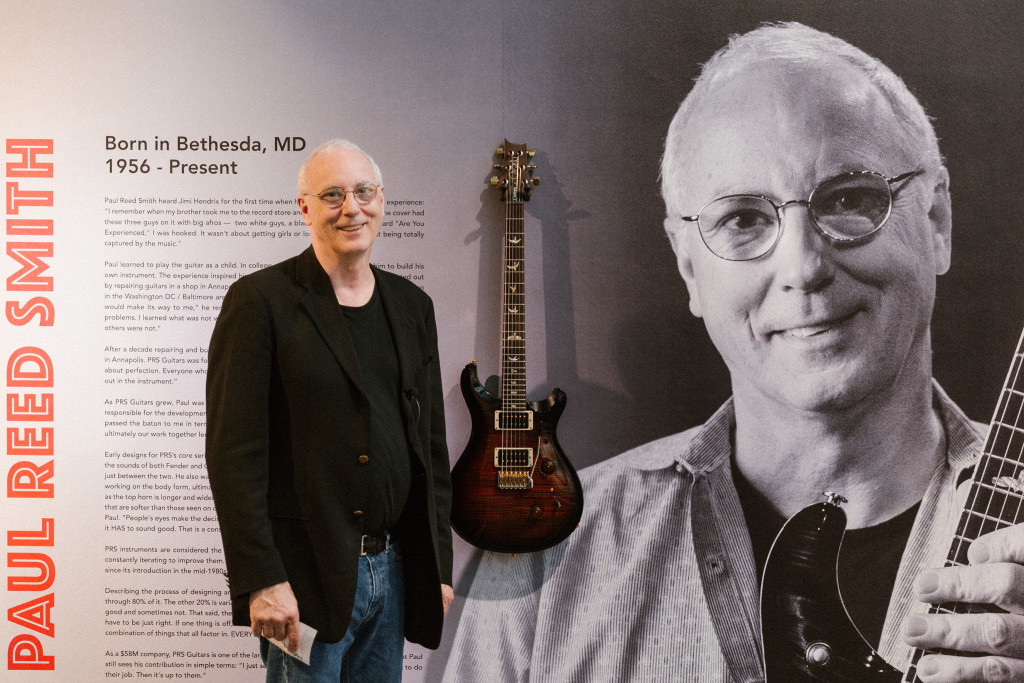 This past Saturday, June 29th, Paul Reed Smith joined the Museum of Design Atlanta (MODA) to celebrate the opening of the "Wire & Wood: Designing Iconic Guitars" exhibition – the Museum's latest installment. Paul Reed Smith helped to kick off the celebration with a special lecture on guitar design and a performance with noted designer and artist Ken Carbone.
The new exhibition, which profiles Smith and PRS Guitars' unique guitar designs, explores the basics of design and construction, while also examining ways that musicians have used the instrument to shape their public images. The exhibition features a dozen iconic guitars and shares the stories of why they have become so well recognized.
Curated and designed by W. Todd Vaught, who brings over 20 years of experience in multi-disciplinary design, management and storytelling, ​Wire & Wood couples foundational design with engaging musician commentary to pose the question: ​does form follow function, or is image king? The exhibition presents the guitar in its most minimal form, asking viewers to consider how simple and traditional design elements such as instrument shape and species of wood affect sound. The exhibition surveys advancements in luthiery, including mass manufacturing and alternative materials, and shares the stories behind how some of the 20th century's most famous guitars reached their status. On display through September 29, ​Wire & Wood also studies the relationship between instrument and player, showcasing an impressive lineup of legendary guitars played by famed musicians and performers, including PRS Artist, Orianthi. On display is Ori's Blood Splatter Custom 24, which she has used on world tour with Alice Cooper.
Wire & Wood is supported by the National Endowment for the Arts, City of Atlanta Office of Cultural Affairs and ​Wire & Wood Alpharetta Songwriters Festival​. Please visit www.museumofdesign.org/wire-and-wood for museum hours and to learn more.
See the exhibit and read about Paul's visit here: http://bit.ly/PRSWireandWood
About Paul Reed Smith:
Paul Reed Smith is a musician, songwriter, and the Founder and Managing General Partner of PRS Guitars. Born in Bethesda, Maryland, Paul made his first playable guitar for extra credit at St. Mary's College, and in 1985, turned that positive experience into Paul Reed Smith Guitars. Today, the company is the third largest electric guitar manufacturer in America, and its list of artist endorsers reads like a who's-who list of contemporary musicians. Smith holds almost 100 registered and pending trademarks, several copyrights, and nearly two dozen patents. Paul Reed Smith presides over research and development of new PRS products, serves as a mentor through motivational lectures to Maryland High School students, cherishes his role as husband and parent, and is an accomplished guitarist who has played with Carlos Santana, Mark Tremonti, the late Chuck Brown, and a host of other notable artists. He continues to write, perform, and record music with The Paul Reed Smith Band.
About PRS Guitars: 
Paul Reed Smith Guitars is a leading manufacturer of high-quality instruments in Stevensville, Maryland and has provided some of the world's most renowned musicians with instruments since 1985. The PRS team of highly skilled craftspeople design and build a wide variety of musical instruments and gear for worldwide distribution, including electric, acoustic, and bass guitars as well as boutique-style guitar amplifiers. The PRS SE line of products complements the Maryland-made PRS line by offering highly approachable and more affordable electric, acoustic, and bass guitars. Carlos Santana, Neal Schon, John McLaughlin, John Mayer, Jimmy Herring, Orianthi, Mark Tremonti, Zach Myers of Shinedown, Brian Kelley of Florida Georgia Line, David Grissom, Martin Simpson, Tony McManus and Blake Shelton are among the artists currently playing PRS instruments and/or amplifiers. www.prsguitars.com
About the Museum of Design Atlanta (MODA):
Located within the Midtown Arts Corridor since 2011, MODA is the only museum in the Southeast devoted exclusively to the study and celebration of all things design. The museum defines design as a creative process that inspires change, transforms lives and makes the world a better place, an idea that informs all of its exhibitions and programs. The museum offers an extensive range of adult programs, as well as educational programs and camps for children. For more information, visit ​www.museumofdesign.org or call 404.979.6455.
Reblogged 4 months ago from feedproxy.google.com