By: Rick Landers
Images: Courtesy of J.Brodie
Of late, Guitar International has been enjoying guitarists known for "fingerstyle" playing who work inside and outside the CAGE to find all kinds of choice sounds that can be melodic, dissonant, romantic and oftentimes otherworldly.
We happened upon Australian, Jordan Brodie, a few months ago who travels the path of some who led the path for him, including Tommy Emmanuel, Ralph Towner, Pat Metheny, Bruce Mathiske, Michael Fix, and Julian Lage.
Brodie's 2018 release, In Good Company (MGM), offers up a fine bit of guitar mastery and showmanship, technical precision and nuance and has us anticipating his next release, even before In Good Company has made the rounds of his touring performances beyond his native shores. His debut album, First Take, made clear the young man's guitar virtuosity and his performances proved a fine way to "wow" a growing huddle of fans.
He'd come a long way since his early fumbling with his Yamaha nylon-stringed guitar to today, with his outstanding clarity and accuracy in find the right notes, bending them intuitively and virtually telling a story through his masterful playing.
In Good Company took three years to pull together, while he was a student at the Queensland Conservatorium of Music. So, there was a bit of juggling between the books, guitar practice and songwriting.
And speaking of otherworldly, on the track, "Travels", you'll likely hear an instrument you've never heard before called a Handpan. Written during this travels in China, Brodie incorporated the instrument's sonics broadening and deepening the songs ethereal appeal, almost keeping us on metallic rim or edge of balance and edginess.
Last year, Jordan toured Australia, Canada, Ireland and Germany and we're looking forward to a future tour here in the States.
******
Rick Landers:  Listening to your music, I enjoyed not only the technical skills you use to weave around a song, but the emotional nuances, the phrasing and your movement from a point of a note to a light touch, almost like a soft brush of a sound. What road did you take on the guitar that led you to your style?
Jordan Brodie:  Thank you for the kind words! I started playing guitar like most seven year olds did – wanting to become a rock star! I have AC/DC to thank for that.  I was extremely lucky to have a great teacher, Andy Redhead, who introduced me to fingerstyle guitar, and more importantly, Tommy Emmanuel and Chet Atkins from a young age.
 I fell in love with the challenge and freedom of playing the bass, rhythm and melody simultaneously. I imitated them for years. But, studying jazz guitar at University was where my style really developed.
I discovered Julian Lage. I was obsessed with him – the fact that he was an extraordinary jazz guitarist, but could play the most beautiful, delicate and simplistic melodies on acoustic guitar was eye opening.
His solo acoustic guitar album, World's Fair, was a big turning point.  It was a much-needed fresh perspective to acoustic guitar! A few other artists are Ralph Towner and Pat Metheny.
Another massive feature of my style is my thumb-pick. Over time the tip of my thumb-pick wore down to almost no tip. And that's how I kept it.
It allowed me to use the thumb-pick to create solid bass lines, while keeping my fingers free for melodies or chords. However, I also hold the thumb-pick like a plectrum to play faster single note lines, or for certain rhythmic strumming.  This is highlighted in the song "Luna".
Rick:  Your track, "Luna" brought to mind Davey Graham's "Angie" and I wondered if you studied his style and technique?
Jordan Brodie:  I actually haven't heard of Davey Graham! I have some homework to do!
"Luna" was inspired by Julian Lage, in particular his tune "233 Butler from his album, Gladwell.
I think the main lick of "Luna" was drawn from Lage's guitar etudes on YouTube. As I mentioned before, I was obsessed!  
Rick:  I've found each of my guitars has its own personality, feel and something like an old L-1 bites a bit more than, say a '40s J-45. What are you playing and what draws you to them? And, do you prefer a particular grouping of tone woods?
Jordan Brodie:  Absolutely! I play a Taylor 514ce. It's been my main guitar for years. When I perform it handles numerous tuning changes without a hiccup.  Standard tuning to BGDGAD and back, no problem.
But, what I really love about this guitar is how the open tunings, like DADGAD or BGDGAD sound through an AER Amp into a PA. It is a huge, full sound! I haven't played anything that compares yet.  So I suppose the Cedar/Mahogany combination is what I like at the moment.
Rick: You obviously excel in our world of guitar, but what other things do you do that you find inspiring enough to approach in a disciplined way?
Jordan Brodie:  I enjoy teaching and sharing my ideas and knowledge with my students! Apart from music, I'm a big Liverpool soccer fan. But, really, it's music 24/7.
Rick:  Where are you at in Australia and what's the music scene there like for instrumentalists, like yourself?
Jordan Brodie:  I live in Cairns, Queensland. For a regional city, there is a lot of music, and talented musicians around, but my plan has always been to tour rather than gig in one place! It's a great place to base yourself though.
Rick:  Did you grow up in a family environment where music surrounded you or did you have to discover it?  Did you find you were obsessed with the guitar like a love affair of sorts?
Jordan Brodie:  Yes I did! I was surrounded by Australian rock and Americana music like AC/DC, Credence Clearwater Revival, Chris Isaak  and Johnny Cash etcetera. It's definitely a love affair! It has never been anything else but the guitar for me. I'm 23 and my friends and family still buy me random guitar related gifts and accessories – I have too much, please stop feeding my addiction! I have other interests too!
Rick: I would tend to think that playing in smaller intimate venues with rich acoustics, that that environment would be a more inspiring place to play than, say a huge auditorium where that intimacy can get lost. What's been your experience?  
Jordan Brodie:  I agree! Lately, I have been doing a lot of house concerts and my favourite aspect is the intimacy and that the audience can shout questions! I love it.
Rick:  Man, I just listened to "Song for You", a beautifully melodic piece and your phrasing is touching. I can only imagine this song is for someone special. Would you elaborate on how this song came to be and if it has a deeper meaning that a song that just arrived out of the blue?  A sweet ending, as well…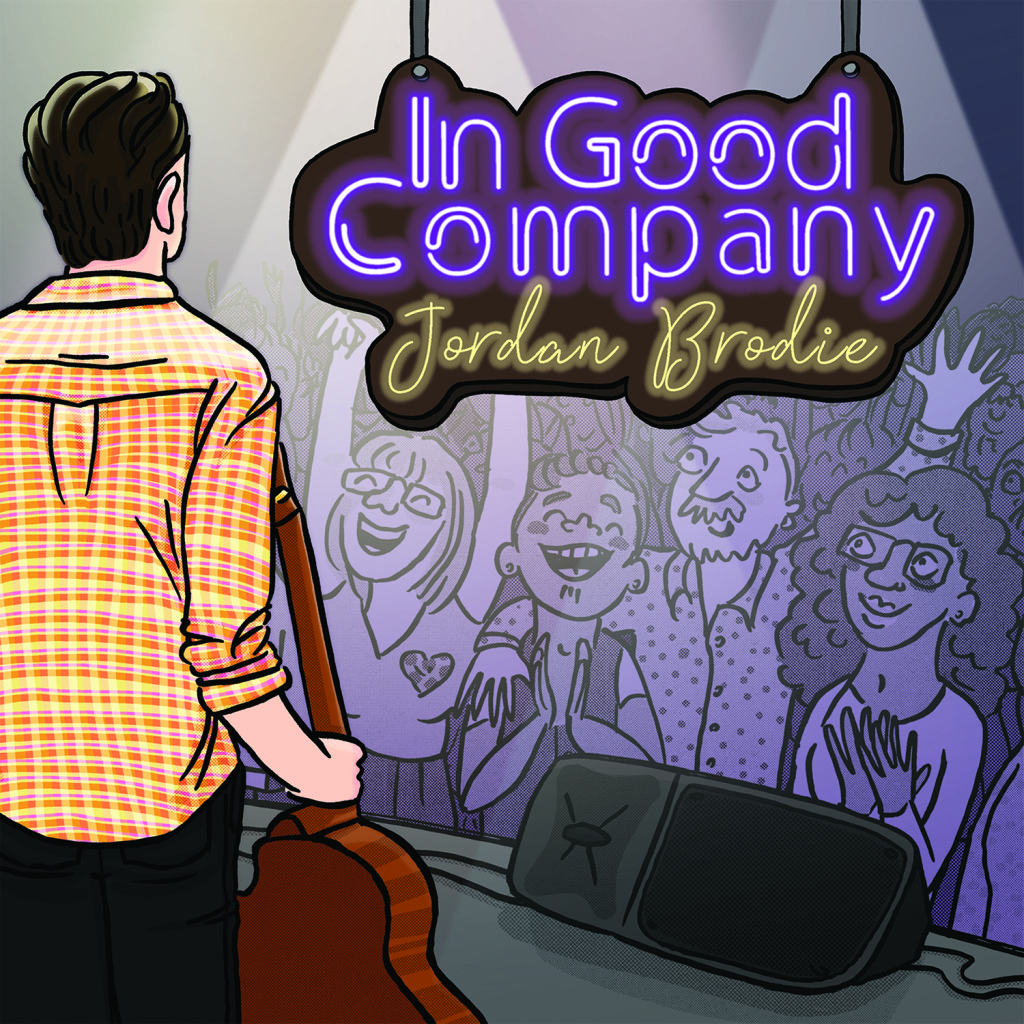 Jordan Brodie:  Thank you! This piece is written in BGDGAD a tuning I stumbled across and fell in love with. I wrote "Song For You" and "Until We Meet Again" around the same time  – both in the same tuning. Nothing can beat a strong melody, I take a lot of influence from Celtic melodies.
At the time of writing, my father was diagnosed with cancer, so these two pieces were an emotional reaction of having to live with the news and the reality of it. I dedicated my latest album to him. He was my biggest fan.
Rick: I always like to ask performers if they been on the street busking, especially if they've become well known, maybe just to see if they could survive on the street. What kinds of experiences do you have like that?
Jordan Brodie:  I have only ever busked as a kid down at my local shopping centre. It was great practice and not bad money for a kid. However, my dream was and still is to perform to people that sit still and quietly listen to me!
Rick:  Please, tell us about your latest release and what projects you've got churning around at the moment that we can all look forward to.
Jordan Brodie:  My new album, In Good Company, came out this year! It is a collection of songs that I wrote over three years while studying at the Queensland Conservatorium of Music.
It's a special album to me. They are the last pieces my Dad heard before he passed away, so it's a tribute to him.  
I spent the first part of the year touring Australia, Canada and Ireland. But, for now I get to spend the rest of the year writing, practicing and taking all of the culture and sounds in Europe.
Rick: Jordan, I love the mix of music you sent, each with its own stylish personality. I look forward to talking to you again on when your next release comes into play.
Jordan: I appreciate the kind words. Thanks for taking the time to interview me Rick! I'm always up for a chat. Until next time!
Reblogged 5 months ago from feedproxy.google.com