By: Robert Cavuoto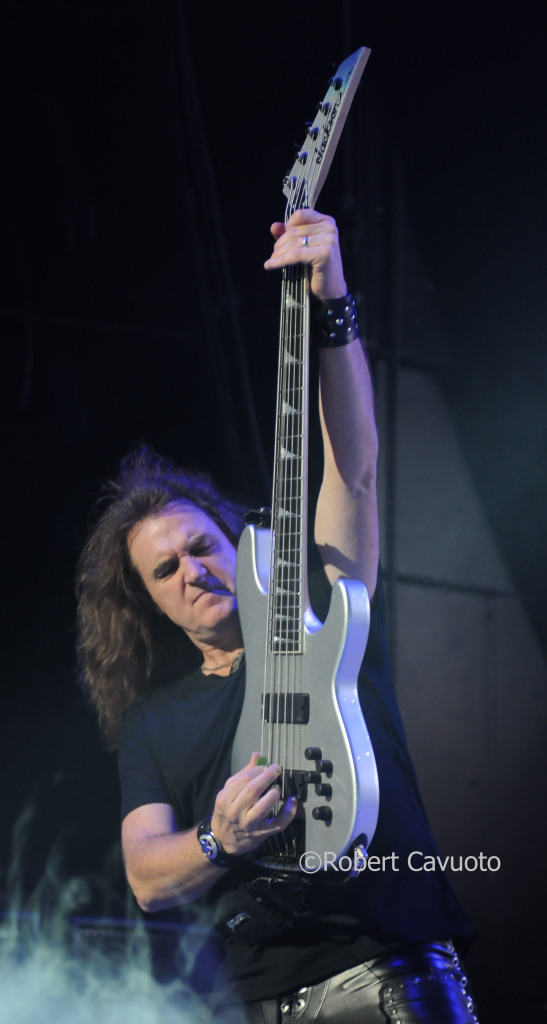 After their inaugural voyage on Motörhead's Motörboat Cruise and a recent addition to the Shiprocked Cruise 2015 in February, Metal Allegiance will also be bringing their musical crusade to the House of Blues in Anaheim, California, on Januray 21st, 2015.
Comprised of Frank Bello, Scott Ian, and Charlie Benante of Anthrax; Chris Broderick and David Ellefson of Megadeth; Alex Skolnick and Chuck Billy of Testament; Andreas Kisser of Sepultura; Mark Osegueda of Death Angel; Mike Portnoy of The Winery Dogs; Troy Sanders  of Mastodon; and John Tempesta  of The Cult; Metal Allegiance will band together to perform the songs that inspired them to pick up their instruments.
Tickets for their House of Blues show can be purchased at HERE.
I had the chance to catch up with David Ellefson and Chris Broderick of Megadeth to talk about Metal Allegiance and what fans can expect at their January House of Blues show, as well as what's on the horizon with Megadeth. As it happened, my interview was conducted just a few
[Editor note: This interview was conducted a few days before Chris Broderick's departure from Megadeth was announced.]
******
Robert Cavuoto: I'm going to ask my last question first, this is such a great idea, are you planning to take this All-Star line-up out on a larger U.S. tour?
David Ellefson:  That could happen. We just launched it on Motörhead's Motörboat Cruise a month ago, we have the show in Anaheim in January and then the ShipRocked Cruise in February. It's something that has a lot of interest, not just here in America, but Europe and South America. It seems like there is a very good future for it.
Robert: How did this idea come about?
David Ellefson:  Our friend, Mark Menghi, had the idea of putting it together. It was born out of bass clinics that he set up for Frank Bello and me in 2010, around the same time we started doing the Big 4 Shows.
We talked about bringing more and more people together from the metal genre and all playing on the same stage. To play not only our tunes, but tunes that we grew up on like KISS, Iron Maiden, Judas Priest, Thin Lizzy, and Van Halen. All the tracks that inspired us to play.
Robert: How do you select musicians to perform with you?
Chris Broderick: We have a core group people like Frank Bello, Dave and I then we invite guests to join us based on their availability. It can be different at any given time.
When we did the Motörboat Cruise it really worked out well because there were a lot of people we worked with in the past, like Charlie Benante and Mike Portnoy.
For the Anaheim show we'll have Troy from Mastodon, Mark from Death Angel and Alex and Chuck from Testament.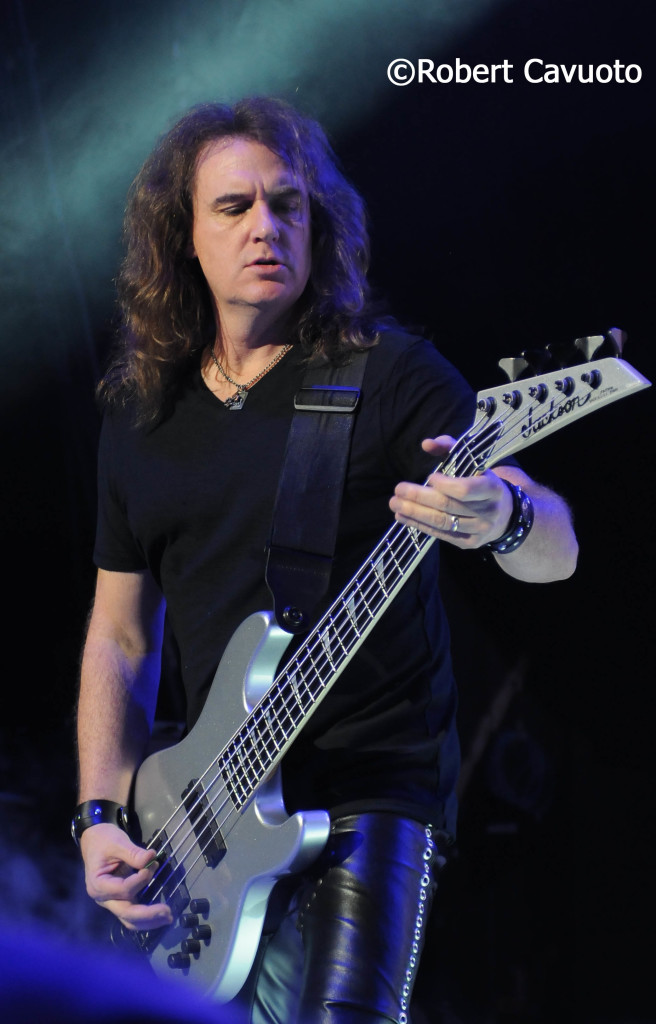 Robert: Is everyone on stage simultaneously or do you break the musicians into different band formations?
Chris Broderick: It has to be a core band to get it to the point to where we can always make the songs happen. From there, it's really about bringing up people to jam. It's loose, we want it to be like your jam room rehearsal.
Robert: With so many great musicians how do you determine the set list?
Chris Broderick: It's a little bit of a free-for-all. Everybody thinks about the songs that they grew up listening to and really want to play. We then email each other with our selections. From there we narrow it down to determine who will taking the instruments to make it happen.
Robert: Do you rehearse these songs prior to the show?
Chris Broderick: We typically have one rehearsal prior to the show, where we run through everything.
Robert: Are there any cover songs that people wouldn't expect to hear?
David Ellefson: On the Motörboat Cruise, John Tempesta, a great musician and fellow from the neighborhood, came up and we played a tune by Rainbow. Mikkey Dee and Phil Campbell of Motörhead jumped up with us for "Jailbreak" by Thin Lizzy.  Turns out that Phil recorded the solo for that in some capacity somewhere [Laughing].
As we move forward with the House of Blues show, there will be more people and different songs.
Chris Broderick: As far as choosing songs, when we have guest come up we ask the guest what they would like to play. You might hear stuff off the first Van Halen album to more eclectic songs like Maiden and Priest. It's interesting and always changes.
Robert: You are both such accomplished musicians, do you ever get stumped by a request?
David Ellefson: The fun thing about is that we try to prepare and do our homework. Some of the requests are pretty obvious, like I know the entire Iron Maiden Killers record top to bottom because I played it since I was 15 years old.
Same with Frank Bello, he knows every Getty Lee riff ever. There are some things that just come naturally too.
There are things that pop-up that makes you go "What the heck is that?" When we were teens these songs seemed so difficult. Now we have our own careers as writers and worked studio with good producers, they don't seem as hard [Laughing].
When we were younger we didn't have the right experience, now that we have, it's interesting to revisit those songs. It's easier to figure them out now on the fly.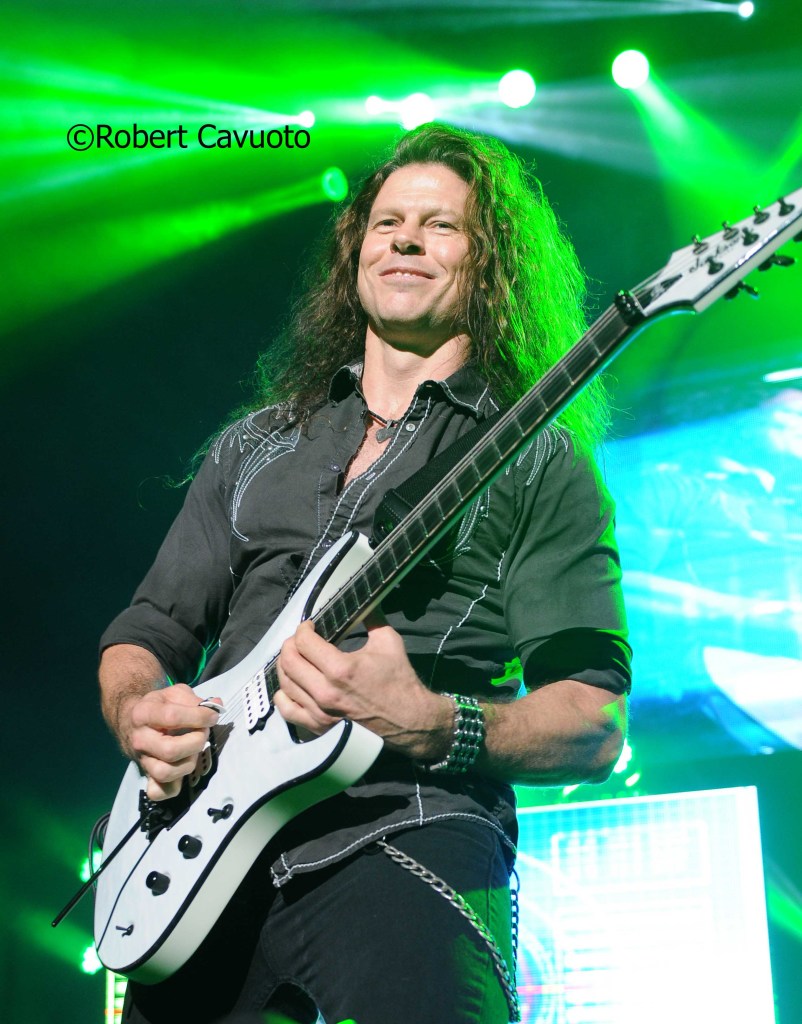 Robert: Is there a lot of improvisation on stage when you don't recall a part or extended jams at the end of a song?
Chris Broderick: If I have the time to learn the song, I want to present it correctly. If any song that I play has been released, it belongs the fans, I want to present it in the right light.
David Ellefson: Our genre of music doesn't really lend itself to the free form hippies jam thing. We didn't grow up playing the 12 bar blues thing. The thing about metal is the "riff" and its consistency. When we show up we know the songs exactly as they were recorded.
We do have improvisation where Mike Portnoy would be playing drums and then Charlie Benante jumps up there and there are two drummers or, Frank Bello and I could start singing background vocals. There are spontaneous moments versus spontaneous jam sessions.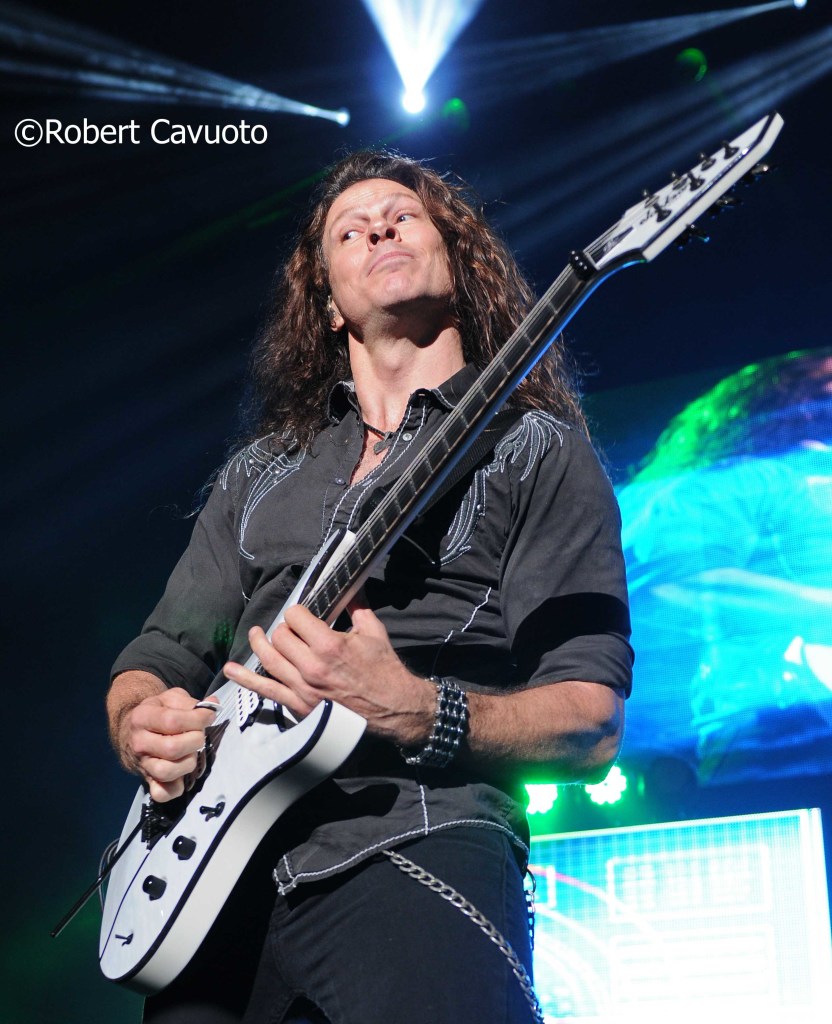 Robert: With so many guitarists playing at the same time, is it difficult for the sound not to get muddied?
Chris Broderick: That one of those things you just have to let it fly. We all know what a throw-n-go-gig is, but this is 100 times more chaotic. You have five guitar amps and four bass rigs and three drum kits on stage, so it can get a little crazy, you just have to have a good time.
David Ellefson: It really makes you appreciate what musicians do. When Scott Ian plays, his right hand picking is dead-on and sounds like a drummer. When Rex Brown came on stage, I don't think I have ever heard a louder bass in my life [Laughing]. When he is on stage the whole band has to come up to his level. All the amps truly go to "11".
Robert: Can you give us an update what is going on right now in the Megadeth camp?
David Ellefson: We are working on our next CD and have tons of riffs. We will be heading into the studio in January and planning to release it around mid-summer. From there we will hit the road.
Reblogged 4 years ago from feedproxy.google.com